For the soil which is tilled and cultivated with toil and skill utterly changes its condition; it was wild before, now it is fruitful; was barren, but now brings forth in abundance. That which has thus altered and improved the land becomes so truly part of itself as to be in great measure indistinguishable and inseparable from it.
Is it just that the fruit of a man's own sweat and labor should be possessed and enjoyed by any one else? As effects follow their cause, so is it just and right that the results of labor should belong to those who have bestowed their labor. With reason, then, the common opinion of mankind, little affected by the few dissentients who have contended for the opposite view, has found in the careful study of nature, and in the laws of nature, the foundations of the division of property, and the practice of all ages has consecrated the principle of private ownership, as being pre-eminently in conformity with human nature, and as conducing in the most unmistakable manner to the peace and tranquillity of human existence.
The same principle is confirmed and enforced by the civil laws-laws which, so long as they are just, derive from the law of nature their binding force. The authority of the divine law adds its sanction, forbidding us in severest terms even to covet that which is another's: "Thou shalt not covet thy neighbour's wife; nor his house, nor his field, nor his man-servant, nor his maid-servant, nor his ox, nor his ass, nor anything that is his.
The rights here spoken of, belonging to each individual man, are seen in much stronger light when considered in relation to man's social and domestic obligations. In choosing a state of life, it is indisputable that all are at full liberty to follow the counsel of Jesus Christ as to observing virginity, or to bind themselves by the marriage tie. No human law can abolish the natural and original right of marriage, nor in any way limit the chief and principal purpose of marriage ordained by God's authority from the beginning: "Increase and multiply.
Consequently, it has rights and duties peculiar to itself which are quite independent of the State. That right to property, therefore, which has been proved to belong naturally to individual persons, must in like wise belong to a man in his capacity of head of a family; nay, that right is all the stronger in proportion as the human person receives a wider extension in the family group.
It is a most sacred law of nature that a father should provide food and all necessaries for those whom he has begotten; and, similarly, it is natural that he should wish that his children, who carry on, so to speak, and continue his personality, should be by him provided with all that is needful to enable them to keep themselves decently from want and misery amid the uncertainties of this mortal life. Now, in no other way can a father effect this except by the ownership of productive property, which he can transmit to his children by inheritance. A family, no less than a State, is, as We have said, a true society, governed by an authority peculiar to itself, that is to say, by the authority of the father.
Provided, therefore, the limits which are prescribed by the very purposes for which it exists be not transgressed, the family has at least equal rights with the State in the choice and pursuit of the things needful to its preservation and its just liberty.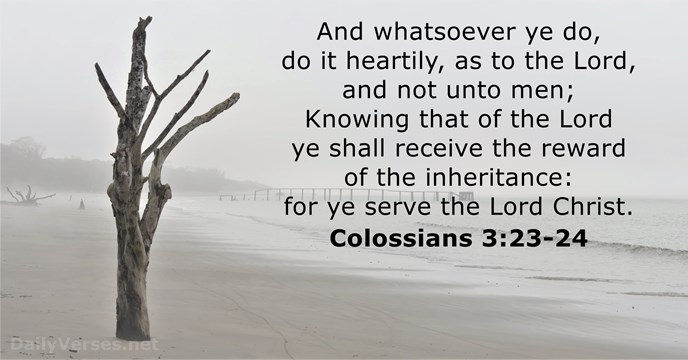 We say, "at least equal rights"; for, inasmuch as the domestic household is antecedent, as well in idea as in fact, to the gathering of men into a community, the family must necessarily have rights and duties which are prior to those of the community, and founded more immediately in nature. If the citizens, if the families on entering into association and fellowship, were to experience hindrance in a commonwealth instead of help, and were to find their rights attacked instead of being upheld, society would rightly be an object of detestation rather than of desire.
The contention, then, that the civil government should at its option intrude into and exercise intimate control over the family and the household is a great and pernicious error.
Receive the Daily Bible Verse:
True, if a family finds itself in exceeding distress, utterly deprived of the counsel of friends, and without any prospect of extricating itself, it is right that extreme necessity be met by public aid, since each family is a part of the commonwealth. In like manner, if within the precincts of the household there occur grave disturbance of mutual rights, public authority should intervene to force each party to yield to the other its proper due; for this is not to deprive citizens of their rights, but justly and properly to safeguard and strengthen them.
Barefoot in Paris: Easy French Food You Can Make at Home.
Pleasant Ridge Baptist Church an independent sovereign grace church - THE PROFIT OF LABOR.
labor under a delusion/misapprehension/misconception.
Bartered Bride: The Billionaires Wife, Part 3 (A BDSM Erotic Romance).
Suggest a Verse.
Auf dem Wege I: Süddeutschland, Schweiz, Norditalien (German Edition).
Proof of God: The Metaphysical Detective (A Novel).
But the rulers of the commonwealth must go no further; here, nature bids them stop. Paternal authority can be neither abolished nor absorbed by the State; for it has the same source as human life itself. And for the very reason that "the child belongs to the father" it is, as St. Thomas Aquinas says, "before it attains the use of free will, under the power and the charge of its parents. And in addition to injustice, it is only too evident what an upset and disturbance there would be in all classes, and to how intolerable and hateful a slavery citizens would be subjected.
The door would be thrown open to envy, to mutual invective, and to discord; the sources of wealth themselves would run dry, for no one would have any interest in exerting his talents or his industry; and that ideal equality about which they entertain pleasant dreams would be in reality the levelling down of all to a like condition of misery and degradation. Hence, it is clear that the main tenet of socialism, community of goods, must be utterly rejected, since it only injures those whom it would seem meant to benefit, is directly contrary to the natural rights of mankind, and would introduce confusion and disorder into the commonweal.
The first and most fundamental principle, therefore, if one would undertake to alleviate the condition of the masses, must be the inviolability of private property. This being established, we proceed to show where the remedy sought for must be found. We approach the subject with confidence, and in the exercise of the rights which manifestly appertain to Us, for no practical solution of this question will be found apart from the intervention of religion and of the Church. It is We who are the chief guardian of religion and the chief dispenser of what pertains to the Church; and by keeping silence we would seem to neglect the duty incumbent on us.
Doubtless, this most serious question demands the attention and the efforts of others besides ourselves - to wit, of the rulers of States, of employers of labor, of the wealthy, aye, of the working classes themselves, for whom We are pleading. But We affirm without hesitation that all the striving of men will be vain if they leave out the Church. It is the Church that insists, on the authority of the Gospel, upon those teachings whereby the conflict can be brought to an end, or rendered, at least, far less bitter; the Church uses her efforts not only to enlighten the mind, but to direct by her precepts the life and conduct of each and all; the Church improves and betters the condition of the working man by means of numerous organizations; does her best to enlist the services of all classes in discussing and endeavoring to further in the most practical way, the interests of the working classes; and considers that for this purpose recourse should be had, in due measure and degree, to the intervention of the law and of State authority.
10 KEYS - YOUR LABOUR IS NOT IN VAIN
It must be first of all recognized that the condition of things inherent in human affairs must be borne with, for it is impossible to reduce civil society to one dead level. Socialists may in that intent do their utmost, but all striving against nature is in vain. There naturally exist among mankind manifold differences of the most important kind; people differ in capacity, skill, health, strength; and unequal fortune is a necessary result of unequal condition.
Such unequality is far from being disadvantageous either to individuals or to the community. Social and public life can only be maintained by means of various kinds of capacity for business and the playing of many parts; and each man, as a rule, chooses the part which suits his own peculiar domestic condition.
As regards bodily labor, even had man never fallen from the state of innocence, he would not have remained wholly idle; but that which would then have been his free choice and his delight became afterwards compulsory, and the painful expiation for his disobedience. In like manner, the other pains and hardships of life will have no end or cessation on earth; for the consequences of sin are bitter and hard to bear, and they must accompany man so long as life lasts. To suffer and to endure, therefore, is the lot of humanity; let them strive as they may, no strength and no artifice will ever succeed in banishing from human life the ills and troubles which beset it.
If any there are who pretend differently - who hold out to a hard-pressed people the boon of freedom from pain and trouble, an undisturbed repose, and constant enjoyment - they delude the people and impose upon them, and their lying promises will only one day bring forth evils worse than the present. Nothing is more useful than to look upon the world as it really is, and at the same time to seek elsewhere, as We have said, for the solace to its troubles.
What Does the Bible Say About Working For God?
The great mistake made in regard to the matter now under consideration is to take up with the notion that class is naturally hostile to class, and that the wealthy and the working men are intended by nature to live in mutual conflict. So irrational and so false is this view that the direct contrary is the truth.
Just as the symmetry of the human frame is the result of the suitable arrangement of the different parts of the body, so in a State is it ordained by nature that these two classes should dwell in harmony and agreement, so as to maintain the balance of the body politic. Each needs the other: capital cannot do without labor, nor labor without capital. Mutual agreement results in the beauty of good order, while perpetual conflict necessarily produces confusion and savage barbarity.
Now, in preventing such strife as this, and in uprooting it, the efficacy of Christian institutions is marvellous and manifold. First of all, there is no intermediary more powerful than religion whereof the Church is the interpreter and guardian in drawing the rich and the working class together, by reminding each of its duties to the other, and especially of the obligations of justice. Of these duties, the following bind the proletarian and the worker: fully and faithfully to perform the work which has been freely and equitably agreed upon; never to injure the property, nor to outrage the person, of an employer; never to resort to violence in defending their own cause, nor to engage in riot or disorder; and to have nothing to do with men of evil principles, who work upon the people with artful promises of great results, and excite foolish hopes which usually end in useless regrets and grievous loss.
The following duties bind the wealthy owner and the employer: not to look upon their work people as their bondsmen, but to respect in every man his dignity as a person ennobled by Christian character. They are reminded that, according to natural reason and Christian philosophy, working for gain is creditable, not shameful, to a man, since it enables him to earn an honorable livelihood; but to misuse men as though they were things in the pursuit of gain, or to value them solely for their physical powers - that is truly shameful and inhuman.
Again justice demands that, in dealing with the working man, religion and the good of his soul must be kept in mind. Hence, the employer is bound to see that the worker has time for his religious duties; that he be not exposed to corrupting influences and dangerous occasions; and that he be not led away to neglect his home and family, or to squander his earnings.
Furthermore, the employer must never tax his work people beyond their strength, or employ them in work unsuited to their sex and age. His great and principal duty is to give every one what is just. Doubtless, before deciding whether wages axe fair, many things have to be considered; but wealthy owners and all masters of labor should be mindful of this - that to exercise pressure upon the indigent and the destitute for the sake of gain, and to gather one's profit out of the need of another, is condemned by all laws, human and divine. To defraud any one of wages that are his due is a great crime which cries to the avenging anger of Heaven.
Were these precepts carefully obeyed and followed out, would they not be sufficient of themselves to keep under all strife and all its causes? She lays down precepts yet more perfect, and tries to bind class to class in friendliness and good feeling. The things of earth cannot be understood or valued aright without taking into consideration the life to come, the life that will know no death. Exclude the idea of futurity, and forthwith the very notion of what is good and right would perish; nay, the whole scheme of the universe would become a dark and unfathomable mystery.
The great truth which we learn from nature herself is also the grand Christian dogma on which religion rests as on its foundation - that, when we have given up this present life, then shall we really begin to live.
God has not created us for the perishable and transitory things of earth, but for things heavenly and everlasting; He has given us this world as a place of exile, and not as our abiding place. As for riches and the other things which men call good and desirable, whether we have them in abundance, or are lacking in them-so far as eternal happiness is concerned - it makes no difference; the only important thing is to use them aright. Jesus Christ, when He redeemed us with plentiful redemption, took not away the pains and sorrows which in such large proportion are woven together in the web of our mortal life.
He transformed them into motives of virtue and occasions of merit; and no man can hope for eternal reward unless he follow in the blood-stained footprints of his Saviour. And not only by His example, but by His grace and by the hope held forth of everlasting recompense, has He made pain and grief more easy to endure; "for that which is at present momentary and light of our tribulation, worketh for us above measure exceedingly an eternal weight of glory. Therefore, those whom fortune favors are warned that riches do not bring freedom from sorrow and are of no avail for eternal happiness, but rather are obstacles; 9 that the rich should tremble at the threatenings of Jesus Christ - threatenings so unwonted in the mouth of our Lord 10 - and that a most strict account must be given to the Supreme Judge for all we possess.
The chief and most excellent rule for the right use of money is one the heathen philosophers hinted at, but which the Church has traced out clearly, and has not only made known to men's minds, but has impressed upon their lives. It rests on the principle that it is one thing to have a right to the possession of money and another to have a right to use money as one wills. Private ownership, as we have seen, is the natural right of man, and to exercise that right, especially as members of society, is not only lawful, but absolutely necessary. Thomas Aquinas, "for a man to hold private property; and it is also necessary for the carrying on of human existence.
Gregory the Great, "let him see that he hide it not; he that hath abundance, let him quicken himself to mercy and generosity; he that hath art and skill, let him do his best to share the use and the utility hereof with his neighbor. As for those who possess not the gifts of fortune, they are taught by the Church that in God's sight poverty is no disgrace, and that there is nothing to be ashamed of in earning their bread by labor.
http://vispa.webdesignmullingar.com/dryadalis-trece-tronos-n-1.php
The BBC's obsession with balance took Labour off-air during the referendum campaign
This is enforced by what we see in Christ Himself, who, "whereas He was rich, for our sakes became poor"; 18 and who, being the Son of God, and God Himself, chose to seem and to be considered the son of a carpenter - nay, did not disdain to spend a great part of His life as a carpenter Himself. From contemplation of this divine Model, it is more easy to understand that the true worth and nobility of man lie in his moral qualities, that is, in virtue; that virtue is, moreover, the common inheritance of men, equally within the reach of high and low, rich and poor; and that virtue, and virtue alone, wherever found, will be followed by the rewards of everlasting happiness.
Nay, God Himself seems to incline rather to those who suffer misfortune; for Jesus Christ calls the poor "blessed"; 20 He lovingly invites those in labor and grief to come to Him for solace; 21 and He displays the tenderest charity toward the lowly and the oppressed. These reflections cannot fail to keep down the pride of the well-to-do, and to give heart to the unfortunate; to move the former to be generous and the latter to be moderate in their desires. Thus, the separation which pride would set up tends to disappear, nor will it be difficult to make rich and poor join hands in friendly concord.
But, if Christian precepts prevail, the respective classes will not only be united in the bonds of friendship, but also in those of brotherly love. For they will understand and feel that all men are children of the same common Father, who is God; that all have alike the same last end, which is God Himself, who alone can make either men or angels absolutely and perfectly happy; that each and all are redeemed and made sons of God, by Jesus Christ, "the first-born among many brethren"; that the blessings of nature and the gifts of grace belong to the whole human race in common, and that from none except the unworthy is withheld the inheritance of the kingdom of Heaven.
Would it not seem that, were society penetrated with ideas like these, strife must quickly cease? But the Church, not content with pointing out the remedy, also applies it. For the Church does her utmost to teach and to train men, and to educate them and by the intermediary of her bishops and clergy diffuses her salutary teachings far and wide. She strives to influence the mind and the heart so that all may willingly yield themselves to be formed and guided by the commandments of God. It is precisely in this fundamental and momentous matter, on which everything depends that the Church possesses a power peculiarly her own.
The instruments which she employs are given to her by Jesus Christ Himself for the very purpose of reaching the hearts of men, and drive their efficiency from God. They alone can reach the innermost heart and conscience, and bring men to act from a motive of duty, to control their passions and appetites, to love God and their fellow men with a love that is outstanding and of the highest degree and to break down courageously every barrier which blocks the way to virtue.